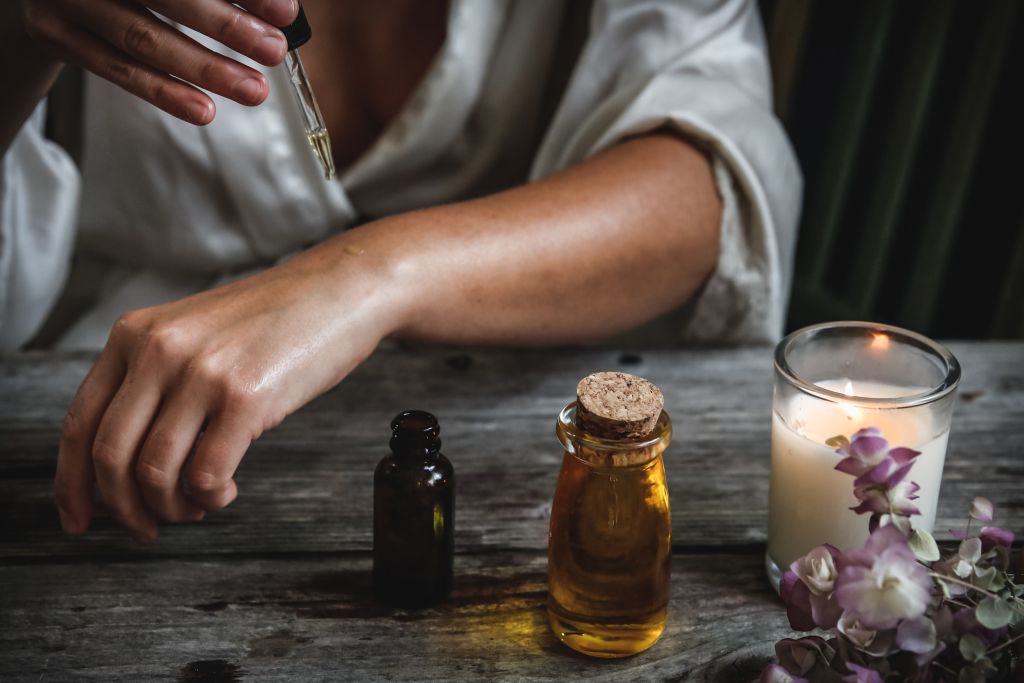 Are you frequently suffering from tension headaches or migraines?
Do you feel like you carry the world on your shoulders?
Are you prone to anxiety, overwhelm or depression?
Do you find it difficult to tame your thoughts, especially at night time?
Is your body feeling particularly achy, tense or stiff?
Are you in need for a bit of pampering?
Then you might find the answer in one of my Massage Therapy offerings.
You have the choice to relax with a soothing Indian Head Massage, a calming AromaTouch Hand Massage or a gentle and rejuvenating AromaTouch Body Massage using pure Essential Oils to balance your nervous system.
Please note that all three modalities can only be booked as in person treatment in the comfort of your home or another suitable venue of your choice as I don't have a suitable space set up at this time. For locations further than 6 miles from TW15 1SS I'll charge an extra £5 and I would not travel further than 12 miles.
Additionally, you'll find me at local pamper evenings or wellness days ~ please ask me for details.
INDIAN HEAD MASSAGE:  Indian head massage originated from an Indian alternative medicine system called Ayurveda (translated as the 'science of life') and has been used in India for over 2,000 years. It is a beautifully traditional practice that is now immensely popular in the Western world. It is usually done while seated and through light clothing, and requires no oils or equipment. Due to its simplicity and portability, it can be utilised anywhere and everywhere, making relaxation and holistic wellness more accessible for everyone. Indian head massage is a treatment that focuses on massaging acupressure points along the head, neck and shoulders, often using circular motions to improve hair and scalp condition and promoting hair growth. Indian head massage can not only reduce headaches, relieve muscle tension and improve physical well-being, but it can also balance energy levels, boost memory capabilities as well as improve mental and emotional wellness through quietening the mind and reducing stress.
AROMATOUCH HAND MASSAGE:  The AromaTouch Hand Technique is a simple yet effective way to promote well-being through the experience of 1 or 2 essential oils ~ much like the full AromaTouch Technique, but in a shorter period of time. The AromaTouch Hand Massage is comprised of five different movements. These five movements are used to establish relaxation by stimulating acupressure points and to improve absorption of the oil through the skin. To complete the entire massage, it takes around 12 minutes which amounts to 6 minutes for each hand. By massaging your hands in this way I often receive messages from your spiritual guides and am happy to share these as they come up.
AROMATOUCH BODY MASSAGE:  A relaxing and balancing AromaTouch Massage is the perfect way to experience the gorgeous dōTERRA essential oils first hand. The AromaTouch Technique is the gentle yet powerful application of essential oils to the back and feet. This technique combines the unique benefits of human touch with the power of essential oils to create an overall wellness experience. The 8 essential oils used in the AromaTouch Body Massage were chosen for their individual and combined aromatic properties and are applied directly to the skin. Using light pressure through the AromaTouch technique, maximum benefit and relaxation is provided. Through the stimulation of acupressure points, this treatment contributes to the reduction of stress and inflammation in the body, supports the immune system and helps maintain the body's homeostasis. An AromaTouch Hand Massage can also be added at the end of the treatment.
1 Indian Head Massage of approx. 25 minutes ~ £20   (£5 extra for carrier oil + 1 Essential Oil)
1 AromaTouch Hand Massage of approx. 12 minutes (using 1-2 Essential Oils) ~ £10   (£5 extra for mini reading)
1 AromaTouch Body Massage of approx. 45 minutes (using 8 Essential Oils) ~ £50
Packages upon request
Email me to book a package or…
Let's

Connect

For further inspiration and day-to-day support follow me on...